FAQs: Autocross
Acknowledgements
What is autocross?
How much does it cost?
Where are events held?
What time should I arrive?
What about safety?
Is there an age requirement?
I'm a novice. What do I need to know?
What should I bring to an event?
What happens at an autocross?
How do I register for an event?
Does my car need to pass some kind of safety inspection?
What are the requirements for tech inspection?
When can I walk the course?
I keep getting lost. Do you have any course walking tips?
When is the mandatory drivers' meeting?
How is the grid setup and how many runs do I get?
What is my work assignment?
Are there any working rules I should know about?
Who cleans up the course at the end of the day?
When are results posted?
What kind of index or handicap system does CDC use?
How do I earn championship points?
What prizes do I win?
I've been autocrossing several times but I'm still slow. Do you have any driving tips?
Is there some sort of autocross etiquette I should follow?
Can you recommend any good books to read?
Back to reality?
The "Solo II Novice Handbook" (copyrighted by the Glen Region SCCA) forms the basis for many of the answers to the Capital Driving Club Frequently Asked Questions. Changes have been made to the original handbook to reflect differences between the Capital Driving Club (CDC) and the SCCA, and to include additional information from "TIR's Beginner Guide to Autocross" by Brent Angevine (Tronix) and that provided by our own experienced club members.
Solo II Novice Handbook copyright notice and acknowledgement
This material is copyrighted because the whole point is to make it readily available to autocross novices and it is not intended to create a profit for me and especially not for anyone else. You may copy this material freely provided that you credit the author and contributors, mention the copyright and do not charge any fee to your users. If you wish to copy this information onto your own web-site, I really prefer if you just link to this site so that your readers will always have the benefit of the most recent version of this handbook.
Not I, nor anyone listed in this handbook is responsible for your actions, despite what you read. Be safe, use common sense, and take responsibility for yourself. All Sports are inherently dangerous. We know that, and we play anyway because it's fun. We apply our own values to the decisions we make about safety and risk within the rules. Your mileage may vary, therefore you are the only one responsible and accountable for your choices.
by Glen Region, SCCA
Painted Post, New York
© May, 1996
revised, March, 1998
With thanks to:
Karl Hughes (Finger Lakes Region) for his novice help sheets;
Josh Sirota (San Francisco Region) and Andy Hollis (Houston Region) for course-walking and driving tips;
Christine Johnson (Houston Region) for enthusiastically sharing her novice program ideas;
Team.Netters - Paul Brown, Sid deLeon, Frank Freda, Stuart Galt, Dan Hollenbaugh,
Eric Jones, Mark Sirota, and Jim White - for many helpful ideas which are used in this book;
and Paul Schelling (Glen Region) for patiently proofing.
End of Solo II Novice Handbook copyright notice and acknowledgement
"Solo II is a precision sport, much like, say, archery, riflery or golf. You must be precise and consistent, all the while driving so fast you can barely concentrate." -- Mark Sirota
Autocross (also known as auto-x or Solo events) is an all forward motion driving skill contest. Each driver is individually timed to the hundredth of a second over a short, miniature road course clearly defined using traffic cones. Cars compete one at a time against the clock, hence the name "Solo", with elapsed time and appropriate penalties for course deviations being the determining factor for awards. Autocross does not preclude the running of more than one car at a time, provided they are separated on course by adequate time and distance to eliminate any possibility of a passing situation. An event can be held on any relatively flat paved surface, usually a parking lot, or airport apron or runway.
Autocross emphasizes driver skill and vehicle handling rather than just speed. The corners are tight, and there are lots of them, so the driving is exciting and challenging. Special competition licenses are not required, and hazards to spectators, participants and property do not exceed those encountered in normal, legal highway driving. The skills you learn and practice here; smooth transitions, enhanced braking, and skid correction, will have an immediate impact on improving the safety and skill of your street driving. Autocross is an excellent way to teach car control to young drivers in a safe environment.
Autocross is also a very social sport, filled with some of the friendliest people you'll ever meet. The camaraderie of the drivers is a special part of autocrossing that is profoundly satisfying. The costs of autocross competition are reasonable and most people participate with their every day use automobiles. Entry fees are usually no more than $40 per driver, and two or more drivers can share the same car. A day of autocrossing is far safer for both car and driver than most people's daily commute to work.
Capital Driving Club (CDC) event fees are as follows:
Auto-x events cost $30 for club members and $40 for non-members and guests.
Test & Tune events cost $35 for club members and $45 for non-members and guests.
Entry fees are payable in CASH at the registration table on the day of the event. Cash is preferred. However, if you absolutely must write a personal check, please make it payable to "Capital Drivng Club". Sorry, but we do not accept credit cards, Paypal, or any other form of payment or trade for event fees.
The Capital Driving Club currently hosts auto-x events in both Maryland and Virginia. We have secured the use of parking lots at the following venues for the 2009 season:
Harry Grove Stadium, Frederick, MD
Prince Georges Stadium, Bowie, MD
James Wood High School, Winchester, VA
C.D. Hylton Senior High School, Woodbridge, VA
Please arrive no later than 8am. Registration and tech inspection open at 8am and close promptly at 8:50am. Tech inspection must be completed prior to the mandatory drivers' meeting which begins at 9am. If you arrive late and do not get your tech inspection completed on time you will lose your morning runs.
Safety is of paramount importance. We want to ensure that everyone has fun and no one, including bystanders, gets hurt and that no property damage occurs. In the United States, the Sports Car Club of America (SCCA) is recognized as the leader in developing generally accepted safety guidelines for autocross competition. Accordingly, the Capital Driving Club will defer to the most recent editions of the SCCA's Club Racing General Competition Rules AND National Solo Rules on all safety related matters unless otherwise specified.
While the safety risk associated with autocross is no greater than those encountered in normal, legal highway driving we do require all participants to acknowledge this risk by signing a liabiltiy waiver. If you are under 18 years of age your legal parent or guardian must also sign the waiver in the space provided next to your signature.
All drivers must have a valid driver's license. Therfore, all drivers must be at least 16 years of age, unless otherwise noted.
Passengers may be any age provided they (and their parent or legal guardian, where appropriate) have signed the waiver and abide by all safety rules. Children should be properly secured in a child safety seat or booster seat depending on their age, weight, and height. Click here for more information about child passenger safety from the US Department of Transportation's National Highway Traffic Safety Administration (NHTSA).
You'll remember your first event for a long time. The adrenaline that makes you shake at the start-line before your first run, and the even bigger surge of adrenaline you feel when you finish. That excitement is part of the sport, and it's why we all do this.
Don't let being a novice overwhelm you! Every driver, including National Champions, had a first day and a novice season. Autocrossing is a skill that requires instruction and practice to see improvements. If it was easy, it wouldn't be so competitive, or so fun. The great thing about this sport, though, is that even when you're going "slow", it's still fun driving.
The course may seem "busy" at first, because it's tighter than what you see on the street, and you're trying to attack it faster than you could in traffic. You'll have fun learning the sport and learning to keep the car in control as you get faster and better with more seat-time.
With that said, here are some tips to give you the right novice attitude, so you don't become discouraged:
Your goal is to have fun! That's why everyone is here.
Your goal for the first run is to avoid getting lost on course (see course-walking tips).
Your goal for the rest of the day is to improve your time on each run.
Your goal for the second event is the same as the first.
Your goal for the rest of the season is to beat somebody (anybody!) and continue to make each run faster than the last.
At this point, you are learning a lot on each run, and you may be 10 seconds behind the leader. That's not unusual! You're still doing OK.
Generally speaking, the veteran drivers like to help the novices. The magic words "I am a novice" will get you extra instruction from other competitors, who can critique your run. Just be careful not to interrupt a driver on a course walk, or while he or she is concentrating on going over the course in his or her head. (See the section on Autocross Etiquette.)
CDC event organizers are available to answer your questions and help you get started. And whether you're a rookie or a seasoned veteran our more experienced club members are always willing to provide instruction at all of our events. All you have to do is ask.
This list covers everything from sunscreen to snacks to tires pressure gauges. You will probably come up with your own list of things you need at an autocross, but this will get you started.
You must have:
Your car

Must be suitable for autocrossing. CDC reserves the right to prohibit any vehicle including any automobile, motorcycle, go-kart, truck, sport utility vehicle (SUV) and/or multipurpose passenger vehicle (MPV) for any reason.
You may share a car with someone else.

A valid driver's license.
Proof of personal automotive liability insurance.

You must certify that the vehicle you are driving at the event has at least $100,000 per person bodily injury and property damage insurance for the event's duration.

Your entry fee.
You may want to bring:
A safety helmet.

CDC allows motorcycle "M Certified" helmets that meet DOT requirements. These helmets will have "DOT" marked on the back.
Snell SA- or M- 2000 or newer preferred.
Loaner helmets are also available in a variety of sizes but quantities are limited and we may not have enough helmets in appropriate sizes to fit everyone.

Extra air in your tires.
Suitable shoes for driving.

The best are light-soled, with a narrow sole which does not stick out past the side of the shoe.
Participants may NOT wear open toe shoes or sandals or go bare foot.

Sunglasses.
Sunscreen.
Clothes appropriate for the weather forecast, plus a change for when the forecast is wrong.
Rain gear / umbrella.
Hat.
Folding chair.
Portable tent or canopy.
Thermos of water or other non-alcoholic beverage.

You are advised to bring your own however to help ensure all participants stay hydrated and cool headed CDC provides complimentary water and soft drinks to all participants (quantities are limited).

Cooler for lunch or snacks.

We fire up the BBQ grille at most events and serve hot dogs, sausages, etc. in exchange for a small donation.
If you plan ahead you should have plenty of time in between run groups to grab a quick bite to eat at nearby restaurants.

Windex and paper towels.
Pad and pencil to write down all the advice you'll get.
High-quality tire pressure gauge.
Portable air tank or compressor.
Portable garden water sprayer to keep your tires cool in between runs.
Chalk or white shoe polish to mark the tires.
Basic hand tools for adjustments or minor repairs.
Zip ties, duct tape, jumper cables, etc.
Spare fluids e.g. engine oil, brake fluid, etc.
Floor jack for changing wheels/tires.
Magnetic numbers or blue painter's tape to mark your racing identification number.
A parent or legal guardian. All drivers and passengers under the age of 18 years old must have parental permission as evidenced by their signature on the liability waiver in the space provided next to your name.
People begin arriving before registration and tech inspection open so they can unpack their car, change tires (if necessary) and get ready for the day. It is best to arrive on time or early so you will have sufficient time to check-in with registration and get your car through tech inspection.
All participants must RSVP for auto-x events using our new online reservation system accessed via our web site at www.capitaldrivingclub.com. No longer should you e-mail Ed to reserve your spot. Walk-ons are accepted depending on availability and only then in very limited numbers so please be kind and let us know in advance if you're coming.
Once an event is listed on the schedule page you will be able to see its current reservation status. Members can reserve a slot for themselves and their guests at any time. Non-members must still wait for the "open" reservation period, which begins 8 days before the event (e.g. Friday March 16th for the Saturday March 24th autocross) so long as slots remain. Events fill up quickly and often sell out entirely so be sure to reserve your spot early.
On the day of the event all participants must check-in with event organizers at the registration table. You must have a valid driver's license, proof of insurance, and entry fee. You will be asked to sign the liability waiver. You must do this to compete, and any guests you bring must sign the waiver also. After paying your entry fee and signing the waiver you will receive a time sheet that is used for backup timekeeping purposes. Hold onto this sheet and do not lose it.
Once you know your car number (located on your time sheet distributed at registration check-in), mark your number on your car. Make sure the numbers are legible, easily read from a distance and do not block your forward vision. You may choose to use white shoe polish on the exterior of the rear side windows (it comes off with Windex), tape paper numbers to the inside of the rear side windows, or use blue painter's tape or magnetic numbers (if you have them) to mark both driver and passenger side doors.
Your car must pass tech inspection before you can compete. The organizers that assist with tech inspection will provide you with a tech inspection sticker if you pass, or recommend changes to make the car pass if needed, such as tie-downs for the battery or removal of loose items in the passenger or cargo compartments if you've forgotten to do so. Tech inspection must be completed prior to the mandatory drivers' meeting. If you arrive late and do not get your tech inspection completed on time you will lose your morning runs.
CDC event organizers will not perform a complete or thorough vehicle inspection nor will they certify anyone's vehicle as "safe". Participants are responsible for the safe operation and condition of their own vehicles. If you are unsure about this, please seek the assistance of a professional licensed and certified automotive technician and/or driving instructor to assist you BEFORE you arrive to the event.
All participants will perform their own tech inspections under the supervision of event organizers. The organizers that assist with tech inspection are there merely to assist you, the participant, in identifying basic safety items that should be addressed. CDC event organizers reserve the right to refuse any vehicle and/or any participant for any reason and refunds will be at the sole discretion of the event organizers. See "Tech Inspection Requirements" below for a partial list of items that you should check when performing your tech inspection.
Safety Helmet

If you bring your own safety helmet, it must at a minimum be DOT approved. CDC does allow motorcycle "M Certified" helmets that meet DOT requirements. These helmets will have "DOT" marked on the back.
It is preferred that your helmet have Snell Foundation SA- or M-2000 or newer certification.
The club provides free loaner helmets for people who do not have one. We have a variety of sizes to choose from but availability is limited so if you enjoy auto-x and participate often it is recommended that you purchase your own helmet.

Safety Belts

Original safety belts, at a minimum, are required.
Shoulder belts are not required if your car did not come with them as original equipment when new, but you must have a lap belt at a minimum.
Safety belts must be firmly attached to the vehicle and be routed in a safe manner.
Safety belts must latch securely and unlatch when commanded to do so.
Safety belts may not exhibit any frayed webbing.
Safety belts must be worn by all drivers and passengers. No exceptions.

Solidly Mounted Battery

The battery must be held down properly. If it can be moved at all, it will not pass. There are some additional battery requirements which may affect you if you have modified your car from original specification. The tech inspectors will help answer any specific questions about suitable battery location, wiring, tie-down, etc.

DOT Compliant Tires

Tires must be DOT compliant.
You may run DOT compliant "R-compound" tires specifically formulated for auto-x use such as Hoosier A6 or Kumho V710. However, tires specifically designed for off-road, non-public highway use such as floatation tires or true "racing slicks" are prohibited. Flotation tires are dangerous and racing slicks can damage the asphalt surface.
Tires must be in good condition. Excessive weather checks or visible cord/plies will fail inspection. Tires should not have any punctures, sidewall bulges or other obvious signs of damage.
Be sure to check your tire inflation pressure. For information on recommended inflation pressure check the vehicle certification label affixed to the door jamb. You may wish to adjust your inflation pressure for optimal performance or if you have fitted non-standard size tires but you should never operate a vehicle with a tire that is severely under inflated or exceeds the maximum recommended inflation pressure specified on the tire sidewall.

Wheels

Lug nuts/bolts must be secure and torqued properly.

Brakes

The brake pedal must be firm, with no loss of pressure when held down.
The hydraulic fluid level in the master cylinder reservoir must be between the minimum and maximum markings and free from obvious signs of contamination.
Brake pads and/or shoes must have a friction surface with a minimum thickness of 3mm.
Rotors and/or drums must be free from large cracks or grooves.
Most of our course designs feature a stop garage which requires drivers to come to a full and complete stop within a specified distance. Make sure your car can do this.

Steering / Suspension

The steering must feel secure with no excessive free play.
Wheel bearings cannot have excessive free play.
No loose, broken or damaged components.

Loose Objects in Car

All loose items must be removed from the passenger and cargo (trunk) compartments. This includes the floor-mats. You may remove the spare tire and jack, but you are not required to if they are properly secured.

Fluid Leaks

Excessive fluid leaks will not pass inspection.

Numbers

Racing numbers should be prominently displayed on both sides of the car in colors that contrast with the paint, and should be large enough to be seen easily from the timing tent. White shoe polish for marking windows (comes off with Windex ) is available for people who don't have magnetic or paper numbers.
CDC members can apply for a permanent racing number. Numbers are available on a first come, first serve basis. No single digit number remain. However, some two and three digit numbers are still available.
Guests, non-members, and members without permanent numbers will be assigned a number.

Adequate Muffler:

Due to the possibility of losing sites for noise problems, we reserve the right to prohibit excessively loud vehicle from our events. Maximum allowable dB levels vary by venue and local ordinances. Please be considerate.

Throttle

Linkage must have a return spring and operate freely without binding.
Check full travel of accelerator pedal and make sure it doesn't get caught up on floor carpeting.

Street Legal

You are not required to have your car currently registered for street use. However it must pass tech inspection and you must have current liability insurance coverage.
After tech inspection you may find you have time to walk the course. Before you go, read the chapter on course-walking tips. A course map may be available at the timing tent but keep in mind we often fine tune the course and adjust equipment until just before the drivers' meeting. It can be time consuming and dangerous if people are trying to walk the course while we're still trying to setup and optimize it.
The course designer will take you on a guided walk through after the drivers' meeting. He will explain how to best negotiate tricky sections. Our courses oftentimes have crossovers where the same section of parking lot is used multiple times or traversed in opposite direction. If you walk the course before it's been tested and finalized and without proper direction you might memorize the wrong course. Don't worry, you'll get plenty of opportunities to learn the course and perfect your line later.
"You must be able to keep track of the course in your head. If you can't, then you can't drive it to its fullest potential." -- Josh Sirota
That quote is worth five seconds to a novice. Knowing how to walk the course is the most important step in being competitive and staying "ahead" of the course. Usually, you'll want to walk the course at least three times.
Step 1: Cone basics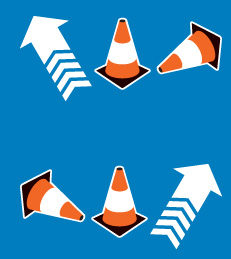 You will notice a sea of cones in your course and to make heads or tails out of them you will need to know a couple of things.
A cone lying on its side is a 'pointer' cone. These cones will let you know which side of the standing cone you will need to be on. For instance:
The cone formation to the right (top) means you will need to be on the left side of the standing cone, and the cones right (bottom) indicate you will need to pass on the right:
If you see two pairs of cones side by side (called double cones) it signifies you must pass through that gate twice during the run, typically in opposite directions.

If you come to a slalom and there is no directional cone, it means you can enter the slalom whichever way you wish. However the way you enter depends on the direction your car needs to be traveling in when you leave the slalom.
Your best choice here will be to enter the slalom from the left side so that when you end your car is in proper position to set up for the next turn. You can see what happens if you enter the slalom wrong: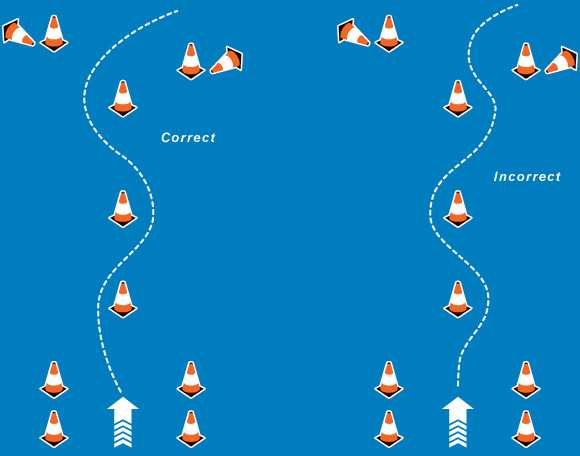 You can still make it through but its going to take more time and skill to make the maneuver. So you always figure out ahead of time which direction you need to enter a slalom.
Step 2: Walk the course
Your first walk will be to get the general layout, and is often a social walk. Now get away from friends and walk the course alone, concentrating on memorizing the layout. Think of it in sections, with key cones marking the turns, such as:
start straight
slalom (enter on right)
decreasing sweeper to the left
"little snake" then "big snake"
right-hand curve (look for three pointers)
"thread the needle section"
tight right, then tight left
finish
Stop every now and then and run through the course in your head, from the beginning to where you are. Pace off the distance between cones in a slalom. Some course designers vary the distance, and it's good to know before you arrive whether you will have to vary your speed in a slalom. Take a note-pad if you like, and make notes such as pavement changes, camber change, bumps, sand, etc.
Make a mental note to yourself (or write it down) how far ahead you will be looking. When I walk the course, I say to myself, "OK, when I am here I will be looking there." This will help you to remember to look ahead while you are driving.
"Repeat this step over and over until the picture is perfect." -- Andy Hollis, Four-time SCCA Pro Solo and Solo II National Champ
How do you know if the picture is perfect? Sit down by your car and try to draw the course on a blank piece of paper. Include the key cones you want to recognize while you drive. If you can't draw the course, you will want to walk it again. Once you leave the start line in your car, you should not be spending any time figuring out where the course is.
Step 3: Plan the course
Do this while walking the course again. Now decide exactly how you want to drive the course. Driving the course perfectly involves two things; coming up with the correct plan, and executing the plan correctly. If you don't have a plan, you can't possibly know where you didn't execute it correctly. It's hard to know if you did this step correctly, but is something you can work on.
The plan involves the line you will take through the cones - the quickest way through. Note, I didn't say shortest. Think about the characteristics of your car; does it corner better than it accelerates, or the other way around? That will tell you whether to slow down so you can get through the corner in control and get on the throttle as soon as possible, or try to carry speed through to keep up the revs.
Don't forget to plan where you will be looking. There is no need to memorize every cone on the course, only the ones you plan to be near, the "important" ones. Look from one important cone to the next in your plan.
Step 4: In Grid
Before you run, while you are in grid, go over the course again several times in your head, executing the plan you made before.
Step 5: After the run
Sit in your car and go over your run. Figure out where you didn't execute the plan. If the plan was to be near a particular cone, and you were five feet from it, then you didn't execute the plan correctly, and a red light should have gone off in your head. Maybe you need to adjust the plan because you were going too fast in the slow parts. Decide at this point whether your next run needs to be a better execution of the plan, or a modification of the plan.
Basically, don't use the car as an excuse, you will see a big difference in your times when you drive a course that never surprised you.
The drivers' meeting is mandatory for all participants. The event organizers will hold the meeting approximately one half hour before the first car starts. This is where you will find out information you'll need to know about the course conditions, number of runs, particular safety concerns, how work assignments will be handled, etc. Afterwards the course designer will take you on a guided course walk through.
We always try to give a total of 6 timed runs, 3 in the morning and 3 in the afternoon, however this my vary slightly depending on the event, weather, field size, disruptions, etc. CDC recognizes that some people cannot commit the entire day to auto-x and must leave early. We offer the option for each participant to run 4 runs in succession (instead of 3) during your morning session and forfeit the afternoon runs. If you elect this option, either let the registration desk know during registration or the timing tent before your heat.
During registration check-in you will be given your timesheet and your heat assignment. You will also be assigned a number to help identify you. Your heat assignment can be found at the top right corner of the timesheet and your driver number is on the top left corner. Typically, CDC has 60-80 participants per event. Not everyone can drive at the same time so to facilitate as many people as possible we divide the participants into 4 heats. Each heat will be approximately the same size (15-20 cars). To be fair to everyone you'll be placed in one of the four heats at random.
If you have never autocrossed before, we suggest that you ride with someone in an earlier heat. You may even want to ride with several different drivers before your assigned heat. If you are new and were assigned to heat 1, ask the person at registration if you can be placed in a later heat. If two people are sharing the same car you can either drive in the same heat or different heats. Special requests can be made during the online reservation process.
If you're a novice we also suggest that you ask an instructor to ride along with you until you get the hang of it. If you can't find someone, let an organizer know and we can find an instructor for you. Most all of the experienced and fastest drivers are willing to instruct and often carry passengers with them during their morning runs so don't be shy.
CDC typically runs a split heat format. The split heat arrangement ensures we always have enough course workers and shortens the duration of work assignments. When each heat starts forming (griding) on the lot, two lines will be formed (line "A" and line "B"). You will be directed to go to one of these lines or if you get there early, you may be able to choose which line you want to be in. Grid promptly to promote smooth operations.
Place your timesheet under the driver side windshield wiper blade when you form on the grid for your heat. If bad weather persists, you may be instructed to place the timesheet on the driver's seat with the DOOR UNLOCKED. An organizer will pick up the timesheets in the order cars are lined up just before the runs begin.
At the start of the heat, one line will work the course while the other line drives the course. When you finish each run return to the back of the line and stay in order. The line will continue to move forward as everybody takes their turn on course. The grid can be crowded and the line moves quickly so please stay with your car and keep close to the car in front of you. We don't want any cars waiting in line to block the stop garage exit. If you get out of your car to adjust tire pressures beware of your surroundings and keep the line moving.
After one line completes 3 runs in succession the participants in that heat switch places- those that just drove, now work and those that worked, now drive. After the other line completes 3 runs everyone in that heat will move their cars off the grid so the next heat can grid and begin the same process. Once all 4 heats have driven three morning runs the cycle starts all over again with heat 1 for the afternoon runs.
Exit the grid area promptly to allow the next heat to begin smoothly. Please keep track of what heat is running and anticipate when one heat ends and the next begins if you're heat is up next. The faster we transition between heats the more runs we can provide.
Once you are on the grid you will wait for the cars in front of you to launch. A course worker will direct you towards the starting line when it is safe to do so. The course worker will line you up so that your front axle is directly on the start line marked on the pavement in chalk. The starter will let you know when it is OK for you to start your run. The signal means go as soon as you are ready. The timer will not start until you pass through the timing light and trip the beam which is located just a short distance ahead of you. Don't take hesitate for too long, especially if we are running two cars on course at one time, because your start is timed to make sure you do not get too near the car already on course.
If you do get "lost" on course, take the time to orient yourself and continue. Don't head back to the start line, because you may be pointed toward another car. Just take the time to get back on course, and continue the run as a practice! Cross through the finish and return to the end of the line for your next run.
The organizers operating the timing equipment will write down your time (along with appropriate penalties) after each run on the timesheet that was collected at the beginning of your heat. This timesheet is used as a backup for score keeping in case we have a technical glitch with the computers. You may retrieve your timesheet after your first 3 runs are complete to see your times. Hold onto your timesheet and do not lose it or crumple it up. You will need to place your timesheet on your windshield when you grid for your afternoon runs. We will keep all the timesheets at the end of the day for score keeping purposes. Your fastest run of the day is used to determine your finishing position.
Read the Driving Tips section for more detail about your runs.
Course work is an integral part of autocrossing. Everybody must volunteer to work to ensure a safe course. No one gets to drive unless we have enough workers on course. As we take safety very seriously working is not optional. Typically, you will work the same heat that you drive. This is possible due to the split heat arrangement. It's best to report for your work assignment as quickly as possible when it is time for you to work. Remember, the faster we transition the more runs we get to drive.
Work positions are determined on a first come, first serve basis. Workstations will be announced at the drivers' meeting. We require a minimum of two people per workstation except the start and finish lines where only one person is needed. If there are more than two people at a workstation feel free to spread out on the course periphery to help pick up cones when they get knocked down. If you're a novice it's a good idea to hook up with an experienced member. For a little bonus instruction, ask your co-worker to talk about the techniques of the cars on course. Read the section on Working Rules and Safety below for more detail about how to call in cones and stay safe while working the course. If you have physical limitations that prevent you from running or picking up cones we can still use your help elsewhere such as at the grid, the starting line, or the timing tent.
Do's
Report to work promptly.
Make sure your station has adequate supplies; extra pylons, fire extinguisher, radio and red flag.
Know your area of responsibility and station number.
Make sure cones that mark the course are in their proper place when you get to your station, and check them periodically during your shift.
Understand the pylon rules e.g., pointer cones do not count if hit (see below), and a car is off-course (DNF for Did Not Finish) if they pass on the wrong side of a cone.
Pay attention to cars on course for accurate cone counts and your safety. It is best to watch the back of the car and the cones themselves to see the wobbling cone which may have left the box.
Replace cones in their proper positions as soon as it is safe to do so. Keep in mind if we are running multiple cars on course with some overlap another car might be approaching quickly behind so work quickly but do not run out in front of a car.
Notify time keeping via radio broadcast whenever a driver has knocked down a cone. The time keepers are very busy and don't always see every penalty so please help them by calling penalties in over the radio.
Be prepared for exposure to sun/rain, wind, heat/cold while on station
Keep red flag in your hand, unfurled (but not flapping) ready for immediate deployment.
Wave the red flag at a car and get them to stop as quickly as possible when instructed to do so by a radio broadcast or if you see an emergency situation. If in doubt, err on the side of safety! We can always give the person another run if the red flag was not warranted.
Keep the radio in your hand ready for immediate broadcast in case of emergency or to notify the timing tent when a cone is knocked down or when a car runs off course.
Stay alert for unexpected pedestrians and vehicles mistakenly entering the course.
Don'ts
Do not use cameras while on station.

If a spectator wishes to take pictures of the action they can go on course only if they have been granted permission from the timing tent, have signed the waiver, and have their own personal spotter for safety. The spotter may not be a volunteer working on course for their heat responsibilities.

Do not sit down and do not wander away from your post.
Do not turn your back on cars on course. Safety First!
Do not litter.
Do not pick up hot parts dropped on course because of risk of burns.
Do not attempt to remove a cone from underneath a car until the driver has come to a complete stop and they have acknowledged your presence. Instruct the driver to remain stationary while you remove the stuck cone. Sometimes you may need the driver to travel in reverse to free a stuck cone. Be very careful when doing this to prevent injury as the underside of the car gets very hot and you don't want to accidentally get run over.

Every cone will have a chalk outline or box to mark its position. This outline is helpful when determining penalties and when resetting the course after a cone is knocked down.
A penalty is given if :
If the cone is knocked over and is out of the box.
If the cone is knocked over and is in the box.
If the cone remains standing but is out of the box.

A penalty is NOT given if :
The cone remains standing and is touching the box.
The cone remains standing and is partially in the box.
And of course, if the cone remains standing within the box.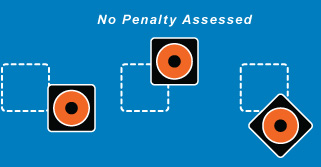 If a person misses a gate, obstacle, cone or goes the wrong direction through an obstacle then his/her run is disqualified or "DNF'd". A car is allowed to veer off course and then back on course as long as they do not miss any cones and they enter the course back on the same path that they left it.
If a person skids out of control, comes to a stop or breaks down, the person running behind them will need to be flagged. This will tell the driver that someone ahead of him has had a problem and they need to abort their run and slow down to a stop to wait for the person in front of them to get their vehicle out of the way. The person who is red flagged because of another driver or other outside influence will not be penalized and will be allowed to make up that run again.

Once all the runs are complete at the end of the day everyone helps clean up the course. This involves bringing in the fire extinguishers and flags, cones and timing equipment, and storing them in the trailer. When everyone helps, this can be completed in fifteen to twenty minutes. Please also pick up any litter on course or in the spectator or pit areas. We cannot afford to lose access to these parking lots because of trash left behind. Let's leave the venue in nicer condition than when we arrived.
Typically, results are posted on the web site within one week of the event. Please be patient as it takes time to calculate everyone's index and tabulate championship points. If you drive the fastest time of the day pat yourself on the back for a job well done. If you had a good time go ahead and pat yourself on the back, too. That's what it's all about, FUN!
The indexed time is a measure of how well you did relative to the other drivers. It is similar to a golfer's handicap. The indexed time will be your elapsed time multiplied by the following factors:
Tire Multiplier
Low-performance/All-season tires (Over 200 Treadwear Rating) = 0.99
High-performance Street Tires (101-200 Treadwear) = 1.00
R-Compound Tires With Treadwear Rating 50 - 100 = 1.01
R-Compound Tires With Treadwear Rating < 50 = 1.025
Horsepower Multiplier (As measured at the wheels)
100 HP or less = 0.99
101 to 150 HP = 1.00
151 to 200 HP = 1.01
201 to 250 HP = 1.02
251 to 350 HP = 1.03
Over 350 hp = 1.04
Vehicle Weight Multiplier (Measured without driver or passengers)
Vehicle weight < 1500 lbs = 1.03
Vehicle weight 1500 to 2000 lbs = 1.02
Vehicle weight 2,001 to 2,500 lbs = 1.01
Vehicle weight 2,501 to 3,000 lbs = 1.00
Vehicle weight 3,001 to 3,500 lbs = 0.99
Vehicle weight > 3,500 lbs = 0.98
For example, you drive a brand new 2008 Honda S2000. You run Kumho Ecsta V710 tires with a treadwear rating of 30. The car is rated at 237hp (SAE net) according to the manufacturer but it has an aftermarket cold air intake system and an aftermarket free-flowing exhaust system which puts it at just over 200hp as measured at the rear wheels (this can easily be verified with a chassis dynomometer). It has a curb weight of 2864lbs. Your best auto-x run resulted in an elapsed time of 46.88 seconds. Therefore, your indexed time would be:
46.88 x 1.025 x 1.02 x 1.00 = 49.01 seconds
Providing your index for scorekeeping purposes is optional. If you do not provide an index your raw time will be reported in the results but you will not earn any championship points. The index system exists to help participants better compare times and is a response to feedback we received from some club members. We do not adhere to SCCA car classifications such as E Stock, Street Mod, etc. for our auto-x events. At CDC, everybody is mixed together. We feel this mixing of different cars and drivers better promotes a fun, friendly, and social atmosphere.
For the 2009 season, CDC will be using a new index system (described above) to award champtionship points. Points will be awarded based on your indexed time, which is calculated using your best elapsed time and your tire, horsepower, and vehicle weight multipliers. We will no longer give points for raw elapsed time. We will drop up to as many as 4 lowest event results when calculating your total (the actual amount depends on how many events we run and how many events you attend). We run so many events it's nearly impossible to attend them all. This approach allows people to miss some events (or do poorly) and still be in the hunt for the points championship.
CDC event organizers that drive will also get points. However, the next fastest person will get the same points (as if the organizer was not there). For example, Joe is the course designer and gets 47 points (4th place). John Doe, who came in 5th will also get 47 points and Jane Smith (6th place) will get 46 points, and so on. Organizers who participated in course design, testing, or optimization are not eligible for FTD honors because they have an unfair advantage.
First Place: Trophy + 8 Free CDC Autocross Event Passes
Second Place: Trophy + 4 Free CDC Autocross Event Passes
Third Place: Trophy + 2 Free CDC Autocross Event Passes
Fourth Place: Trophy + 1 Free CDC Autocross Event Pass

Event passes are transferable to other drivers.
Seat time, seat time, seat time. That's the best way to go faster. They say, "Before you fix the car, fix the driver". That's because there's so many techniques to improve your driving, it takes seat time to learn them all, but once you do, someone without those skills would have to spend a lot of money on their car to beat you, and probably still couldn't.
Here are a few techniques to get you started. Don't try to apply them all in your first run, you'll be too busy. But read through the whole list, then work at gaining these skills one at a time.
Look Ahead
I can't emphasize this enough. I repeat it out loud while I am driving. It's so easy to forget, but makes such a big impact on my driving. It all relates to hand-eye (and eye-foot) coordination. Look where you want your hands to drive you, and look far enough ahead to take advantage of the feedback. If you're looking at that outside cone that you're afraid you'll hit, well, you'll hit it. If you're looking ten feet in front of the bumper, the turns will keep surprising you. Imagine looking at your feet while you are running on foot! You won't be very coordinated, and you won't have a good sense of distance or speed. Same goes for driving hard corners as you do in autocross. Look ahead. You will be astounded at your performance the first time you remember to do this all the way through a course.
Slow Down to Go Fast
A common problem when you're starting out is trying to take the tight sections too fast, and not staying in control. I still remember finishing a run and saying, "Well, I didn't go very fast, but it sure was smooth," only to find out I'd gone faster by a full second! Just be patient in the slow spots. They're slow spots, after all.
Brake hard in corners
Go ahead, squeeze the brakes hard. There's no morning coffee on your dashboard, or eggs in the front seat. Once you decide to slow down for the corner, don't waste any time. If you find yourself at a crawl and you're not at the corner yet, why, you've just found out that you can brake later. Locking up your tires will not shorten your elapsed time, so squeeze the brakes firm but not too hard. You want to avoid flat-spotting your tires. Also remember that braking affects weight transfer which will have an effect on handling. You may find the car has a tendency to become unstable or oversteer under braking. You may even figure out how to use this trait to your advantage to better negotiate some sections of the course.
Adhesion
Don't ask too much of your tires. For any tire/pavement pair, there's only a certain amount of traction. We'll call that 100% traction. You can use up that traction with your throttle, your brakes or your steering wheel. So if you're going into a corner, using 100% of your traction to make the turn, what happens when you ask for more traction by applying the brakes? Either you won't brake or you won't turn. Or both. Same goes for accelerating out of a corner. Ease in the throttle as you ease out of the turn. So use full throttle and full braking only in a straight line. This goes back to slowing down to go faster, and brings us to...
Smooth Inputs.
You may have noticed that I used the phrases "squeeze the brakes" and "ease in the throttle". This is where you have to change your mind-set about inputs to controlling your car. You need to convince yourself that you can make your car respond better by squeezing the brakes hard instead of standing on the brakes, by rolling in the throttle rapidly instead of stomping on the gas, by turning the wheel quickly instead of cranking it around or sawing back and forth. Subtle, but it will show up in how often your car is in control instead of scrubbing off speed pushing around a corner. And it will take a lot of practice to become second nature.
Shift near redline.
On the street, we don't usually shift near redline (high rpms). But in autocross, you want to be making the most of the power available to you. You'll learn to hear the motor as you drive and stay in a low gear longer. Most courses will be in second gear for stock cars. If you're shifting to third, you're shifting too soon, and giving up power (ask other drivers if this is true for the particular course being run). Most modern cars have electronic rev-limiters. It might startle you the first time to bump into the rev-limiter but it's no problem for the car if you reach the limiter on occasion. If the car's designers didn't want you to rev that high in the first place they would've made the rev-limit lower.
Launch at higher engine rpm.
Each car varies, but try to start at higher rpms than you're used to. Don't "dump" the clutch, or you'll find your wheels spinning. Let it out rapidly and find the right rpms to maintain traction. Higher horsepower cars will want to use lower rpms than less powerful cars. Launching AWD cars can be tricky because the tires don't ever want to slip, they just keeping gripping, and the engine might bog down under load. You don't want to abuse your transmission or differentials so if you're having trouble launching your car ask one of the more experienced club members who drives the same car as you how they do it.
Don't worry about the blinkers, wipers or horn. You're bound to hit them as you drive. Don't let it throw you. We've all done it!
More, Later...
There are many more techniques for getting better times, but start with the ones listed above. After you've learned them, you'll be ready to buy a book on autocrossing (see Recommended Reading), or attend a driver's school and learn the advanced techniques of heel/toe, shuffle steer, late apex, and more.
Go to as many events as you can. Go to the ones with the toughest competition - we think CDC is the best local auto-x club, but if you want to see how you stack up against another group of drivers attend a SCCA event at FedEx Field or a National Road event at Cumberland Airport. Attend drivers' schools in your area, or travel to another region or another club. Both the Evolution Performance Driving School and Brian Garfield from the WDCR SCCA offer expert instruction.
Always remember to have fun, even when you are being stomped by some national hotshoe. You'll never stop learning - the best drivers will tell you this still applies after ten or twenty years! Remember, seat-time, seat-time, seat-time. Nothing will make you go faster sooner. And nothing is less expensive in improving your times.
Autocross is a social sport, and most drivers are happy to give you advice and critique your runs. Ask someone with a similar car if you may follow them through a course walk. Maybe they'll even think aloud for you (don't do too much talking yourself, or you will be making them walk again). Ask if you can ride with them on a fun-run, or during "test and tune" (non-competition) events. If you're not sure when to line up, go ahead and ask. Ask someone to look at the chalk on your tires to see whether you need more air. Ask someone to watch your run if they have time, and tell you what needs changing. They'll be glad to.
There are a few bad times to ask for advice, though. Here's a quick list:
When they are walking the course. (They're trying to memorize it.)
When they are staring into space or have their eyes closed, they're probably going over their run or plan.
When they are in grid. They are only thinking about the course.
Try to help out. There is more work to be done than the mandatory course-work. This is an all-volunteer organization, so help is always appreciated. Luckily, this also puts you in a position to talk to other drivers, because the veterans are helping out, too. If you share the work, they'll have more time to talk to you. Likewise, showing up early will help out the registration and tech crew, and give you more time to walk the course. Read the next section on how to help, if you're looking for ideas to lend a hand.
Everyone stays to help clean up the course and pit areas. Keeping the sites is important to everyone, so leave your pit area cleaner than you found it.
Drive responsibly on or off the autocross course. We reserve the right to exclude any participants driving irresponsibly (e.g. doing "doughnuts") on course, or showing gross disrespect of the speed limit and signs when negotiating the pit or grid areas or on nearby public roads. Oftentimes bystanders driving down nearby public roads past our venue will display a show of speed in a lame attempt to boost their fragile ego. These idiots make us look bad so we give local law enforcement a "heads up" before each event to be on the lookout for such disrespectful behavior. Our club members are smarter than that and know how to stay safe and out of trouble.
"Secrets of Solo Racing" by Henry A. Watts
"Prepare to Win", "Tune to Win", "Engineer to Win", and "Nuts, Bolts and Fasteners" all by Carroll Smith
"How to Make Your Car Handle" by Fred Puhn
"The Driving Force: Extraordinary Results from Ordinary People" by Peter W. Schutz
You've had a blast driving in the autocross. The adrenaline was high, you're ready for another event. You can't wait to start improving your skills. Before you leave, check your tire pressures and adjust them to recommended levels for street driving. Now would also be a good time to check your fluid levels and give the car a quick visual inspection to make sure nothing is broken or about to fall off (are all you lug nuts tight?) Pack up all your belongings and clean up any litter that was left behind. We work hard to secure sites for auto-x and cannot afford to lose one due to irresponsible behavior. Please leave the venue in nicer condition than the when we arrived. Don't forget to check when and where the next autocross will be held! Then spend some time reading through this handbook again before the next event.
Driving in an autocross is a real thrill. But don't forget when you leave the course, that you're in traffic again. Take your new car control skills with you for emergencies, and obey all road laws. Save your spirited driving for autocross, where it's legal!